Creative Director
NADIA NEUMAN
With a passion for rare and exotic gemstones, bold concepts, and creating meaningful and symbolic pieces, Nadia Neuman has established herself as one of Australia's most distinguished jewellery designers.
Accustomed to pushing the boundaries of creativity and design, Nadia opened the Mondial by Nadia Neuman boutique in Sydney's iconic Strand Arcade in 2009. Having grown up surrounded by beautiful pieces, exceptional craftsmanship and exotic jewels, Nadia inherited her parent's passion for natural coloured gemstones and unique jewellery design
Learn more about Nadia
Company Director
MICHAEL
My passion is all things diamonds – especially coloured ones! – and looking after wonderful customers from here and all over the world.

Having been born to parents who had established a thriving and evolving jewellery business, eventually joining the family enterprise was always a possibility – even if it took me a while to get here!
My parents were manufacturing jewellery wholesalers and from a young age, school holidays were spent running job packets between, jewellers, setters and polishers to create the ranges of jewellery which were sold by "Neuman Jewellery Imports" to many of the familiar and respected jewellery retailers in Sydney and around the country. Back then, as now, the jewellery created by my family was renowned for being of high quality and unique/innovative design and I believe those were key ingredients to my parents' success.
Learn more about Michael
Company Director
JACOB
"Every natural gemstone will find its right owner"

Originally trained in jewellery retail in Vienna, Austria I emigrated to Australia in 1981 to start working in the Neuman Family Wholesale business. I was responsible for sorting diamonds and learning the trade from a wholesale point of view. In this capacity, I showcased our upmarket jewellery to all the prestigious jewellers around Australia.
In the early 90ies the Neuman Family opened their shop in the famous QVB
Building where we are still residing today as the second oldest tenant. As a company director, I have learned that every gemstone is unique in its characteristics and showcases the beauty of nature.
Under the watchful eye of our founder Fred Neuman I have acquired extensive knowledge in natural coloured diamonds such as pink and champagne, vivid
yellows and deep purple blues.
My philosophy is that everyone that you come across in business should be treated as you would like to be treated. I believe that respect, honesty, and truthfulness are the key to a successful business.

My hobby is experimenting with recipes and cooking for my family.
Gemmologist & Sales Consultant
SONIA
For the past 18 years, I have had the privilege of working alongside the Mondial family, work that continues to bring me immense joy and fulfillment. My time at Mondial is dedicated to two main aspects: serving our wonderful clients and ensuring impeccable quality control. 
I love building and nurturing lasting relationships with our valued clients. I am deeply committed to providing a warm and friendly experience, where every client feels valued and receives a personalized touch always. Attention to detail is at the core of my approach, as I believe it is the little things that make a significant difference. 
As the resident gemmologist at our Strand Arcade boutique, I assist in sourcing and selecting gemstones and diamonds that are truly exceptional. I take great pleasure in acquiring the most exquisite and unique gemstones for our discerning customers. 
I also oversee the production of each piece guaranteeing that every creation upholds Mondial's high standards of excellence.  
My design philosophy revolves around the harmonious fusion of contemporary tastes with the timeless elegance of vintage and antique designs. Drawing inspiration from my knowledge and appreciation of classical styles, we craft pieces that not only resonate with modern sensibilities but also pay homage to the grace and allure of the past. 
I am truly honoured to be a part of the Mondial family, where I get to work alongside a wonderful team. I hope that in some ways I contribute to the creation of cherished memories for our valued clientele. 
Sales Consultant
ROSE
Hi there, I'm Rose, and I've been in the jewellery business for an amazing 42 years. I still find joy in the beauty of exquisite pieces. It all started when I managed my parents' Swedish glassware stores as a teenager. From there, I ventured into the world of luxury jewellery, joining my sister and brother-in-law in their venture. We had the pleasure of selling renowned brands like Rolex, Patek Philippe, Chopard, Bulgari, Boucheron, and Pasquale Bruni.

Throughout my journey in this industry, I've always been captivated by the breathtaking jewellery pieces that surround me. That's why I'm thrilled to be part of Mondial, a family business that continually inspires me with its exquisite gems and Nadia's creative vision.

When I'm not immersed in the world of jewellery, I cherish the time spent with my wonderful family, including my three beautiful daughters and two amazing grandchildren. I also enjoy indulging my creative side by decorating and refurbishing furniture.

Join me on this exciting journey at Mondial, where we can explore the fascinating world of jewellery together and appreciate the timeless elegance it brings.
Manufacturing Coordinator
ALFRED
I've been working with the Neuman family for 38 years. I started working with Maria and Fred Neuman in their wholesale business, travelling all over Australia as a sales representative, 
Working closely with Maria and Fred, taught me how to effectively communicate with people from different backgrounds and the importance of being generous and transparent, values that still guide me today. When Fred switched from wholesale to retail, I began working with both the QVB and Strand arcade boutiques, liaising between our production team and our jewellers. 
Over the years, I have nurtured strong relationships with our dedicated craftspeople, working hand in hand with them on a daily basis. I prioritize effective communication and seamless coordination, ensuring that customer orders and stock management are handled with utmost care and attention to detail. 
In addition to my expertise in jewellery, I possess a range of complementary skills. These include proficiency in IT, problem-solving, implementing new programs, and analytical thinking. These skills allow me to contribute to the continuous improvement and operational efficiency of our processes.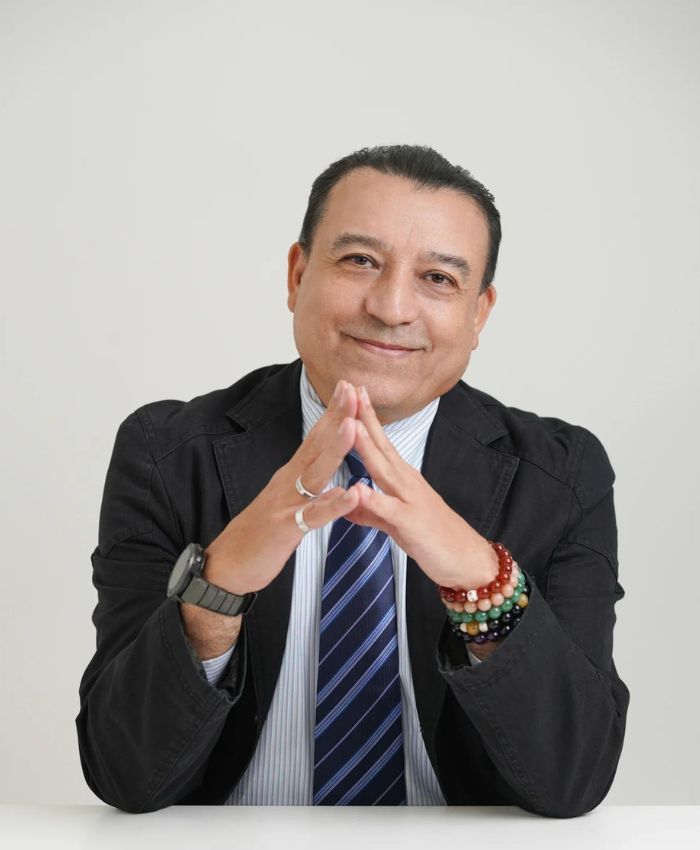 Production Manager
IMOGEN
I have always had a love of visual art in all its forms and that's what fine jewellery is to me; wearable art that is an extension of the person who wears it. The intricacy and precision required in crafting fine jewellery sets it apart from all other art forms and is what has cultivated my love for the trade. I have developed a wealth of practical knowledge and experience while undertaking certificate II and III in Jewellery Design and Manufacturing, which has assisted me in my position as the production manager for Mondial and Mondial by Nadia Neuman. My role is detail oriented and constantly varied and interesting, as I strive to ensure we get the best possible results for our customers by working in collaboration with our manufacturing team of trusted jewellers, gem and diamond setters, computer assisted designers, engravers and polishers. I am grateful to be a part of the Mondial team who have more than a century of combined experience to share with me and who strive to always create incredible pieces of art that will be loved and cherished by our clients.
Senior Sales Manager
MEI
I have had the incredible privilege of serving as the Senior Sales Manager at Mondial Pink Diamond Atelier for more than 20 years. There is nothing that brings me greater joy than helping customers find their perfect diamond or piece of jewellery.
Over the years, I have formed wonderful relationships with my clients, and it warms my heart to now assist their adult children and extended family members too.

With a diploma in gemmology from the Gemmology Association and Diamond Technology, I have refined my skills in guiding customers to choose the ideal diamond, with a special focus on Argyle pink diamonds. Creating beautiful, one-of-a-kind jewellery pieces that truly reflect everyone's unique style and personality has been an incredibly rewarding experience for me.

Nature has always been a great source of inspiration for me. During my time at Mondial, I have been fortunate to have the freedom to let my creativity flow and design the most extraordinary and distinctive items. One of my personal favourites is crafting jewellery with floral designs, as they capture the essence of natural beauty in an enchanting way.

Being a part of the Mondial family has been a true blessing. I am grateful for the opportunities to utilise my expertise, build lasting connections with our valued customers, and witness the joy and excitement they experience when their dream pieces come to life. It is an absolute privilege to contribute to the legacy of Mondial and play a role in the meaningful moments and memories of our cherished clientele.
Sales Consultant & Administrative Manager
ROSEMARY
Over the past 19 years, I have been an integral part of the Mondial family. My journey began as the Manager of our boutique in Bondi Junction and quickly transitioned into the role of Administrative Manager for both the Mondial Pink Diamond Atelier in the QVB store and our Strand Arcade location. Since 2004, I have proudly served as a member of the Mondial by Nadia Neuman team in the Strand Arcade.

With a strong background in administration and retail, complemented by a BA in Communications from UTS, I bring a diverse skill set to my role. My unwavering commitment to exceptional customer service is guided by a passion for meticulous attention to detail.

Throughout my time at Mondial, the company has become more than just an employer to me; it is a second family. I take great pride in being part of such a prestigious organization and value the experiences and opportunities it has provided me.

As a valued member of the Mondial family, I am dedicated to upholding the company's reputation for excellence and ensuring that our customers receive the utmost care and attention. It is both an honour and a privilege to contribute to the continued success of Mondial, a company that I deeply respect.